Years ago, I was discussing with a fellow recruiter about the best way to handle typical interview questions.
One of his bits of advice was priceless.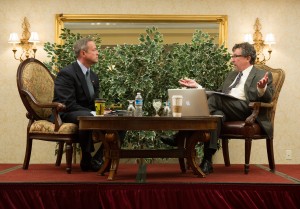 He said that sometimes it is best to answer a question with a question.
I asked him what he meant, and he replied:
"Sometimes on an interview you will be asked a question that catches you "off-guard".  You are either not sure exactly what the interviewer is asking, or you are just simply not sure how best to answer the question.  By using the technique of answering a question with a question, you do two things.
The first thing you do is buy yourself some time to think.  The worst thing for you to do when faced with a situation like this is to just start rambling and saying things off the top of your head.  By answering a question with a question – you buy yourself more time to formulate a concise answer.
The second thing that you do is obtain more information about what exactly the interviewer is looking for.  And once you know what the interviewer is looking for, you can give them a better answer."
He went on to give an example.
"For example, if the interviewer simply says to you, 'Tell me about yourself', instead of simply launching into your answer, you might say to the interviewer, 'Let me ask you – do you want me to start with my college experience or are you just looking for me to discuss my professional experience?' By questioning the interviewer, you can get a better idea of the type of information they are looking for, and that way you can formulate a more targeted response."
I thought his suggestion was brilliant.
And his advice is not only good for interviews, but his technique can be used in all types of business situations.
So the next time you are asked a question that you can't answer immediately, instead of responding immediately, the more prudent thing to do may be to answer that question with a question.